Fairfield's Main Street and some extensions off Main Street are designated as the Village Core Zoning District which encompasses Fairfield's Historic District.  The Historic District was entered in the National Register of Historic Places in May of 2000.
The Borough Code of Ordinances addresses some standards which are specific to the Village Core Zoning District.  In addition, any new construction and virtually any exterior alteration, renovations or remodeling at any property in the Village Core District require prior review and approval by the Fairfield Historical Architectural Review Board (HARB).  Upon approval, the HARB will recommend that Council authorize issuance of a Certificate of Appropriateness (COA).  The HARB meets monthly, as needed, on the Thursday before the monthly Borough Council meeting, which is the fourth Tuesday of each month, commencing at 7 PM.  There is no fee for HARB review or application for a COA.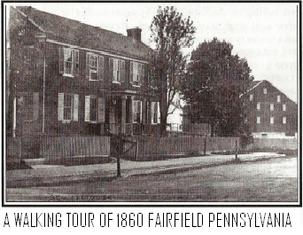 Based on information researched by Timothy H. Smith, courtesy of the Fairfield Sesquicentennial Committee.
TWO EVENTS COMING UP SOON! CHECK THE BULLETIN BOARD PAGE
parks & recreation
In 2008 Fairfield Borough embraced the Hamiltonban Township and Fairfield Borough Joint Recreation Plan which set the stage for the 2016 cooperative formation of the  Hamiltonban Township and Fairfield Borough Joint Parks and Recreation Commission.
Five enthusiastic members form the Joint Commission - four who are residents of Hamiltonban Township and one who is a resident of Fairfield Borough. The Commission's initial mission is the development of a public community park serving recreational needs for residents of all ages on land that is owned by Hamiltonban Township.
As of this writing in January of 2020, the first two phases of the park have opened and been enjoyed by our residents.  When you visit you'll find a parking area with handicap parking spaces; a pavilion with charcoal grills; a flag display area; a children's "train themed" play structure, a swing set with two regular swings, one toddler swing and one specially designed handicap swing;  a sandbox; a children's natural play area that incorporates "elements for the imagination" (colorful tube crawl, hopscotch climbing rock and stumps with balancing logs to come in the Spring);  a  quarter mile walking pathway; and five adult exercise stations along the pathway. In the Spring of 2019 the butterfly/pollinator garden was planted and two mason bee habitats were installed.  The five interpretive panels explaining the history and cultural features of our area were installed in the Fall.
It is hoped that funding will be available in 2021 to construct the second connecting loop of the pathway that will enlarge the walking path to a ½ mile circuit. Plans are underway now to decide what new amenities will be added.
If you care to make a donation other than a Memorial Donation to contribute to park development, call the Hamiltonban Township secretary at 717-642-8509 or mail your donation to the Township office at PO Box 526, Fairfield, PA. Be sure to include "Park Donation" on your check! To see any and all details about the Commission including its history, plans for the park, a list of donors, Commission meeting dates, and minutes of Commission meetings visit the Township website at www.hamiltonban.org and click on PARKS & REC.
See  you at the Park!